A small memorial plaque is often all that's required to create a fitting tribute to the deceased. Often found on park benches, urns and gravestones, they can be made out of almost any material at little cost; yet they leave behind a dignified mark of respect that can be appreciated indefinitely.
Memorial plaques have been around for a millennia, but the first modern designs were introduced following World War 1 in order to commemorate fallen soldiers. These "original" commemorative plaques were constructed of iron, which made them prone to rust; therefore, few have survived the test of time. Nowadays most small memorial plaques are cheaper to produce and can be made from other, less degenerative materials, such as brass, aluminium and bronze.
The Benefits of Small Memorial Plaques
Large memorial plaques can be ornate and beautiful; however, that doesn't mean they provide the most appropriate tribute. For example, if the plaque is being used to commemorate someone who was quite reserved, something so bold may not be suitable. Small memorial plaques can still be ornate and unique, but are usually more personal than larger pieces.
The most common memorial plaques are rectangular pieces of brass or bronze with a small inscription; usually a quote from the deceased, or an epitaph. However, nowadays aluminium plaques are becoming increasingly popular as they can be painted, which can make them more appropriate for certain surroundings.
Making a Memorial Plaque Unique
Laser etching is the quickest and cheapest engraving option. A laser will cut perfect characters on sheet metal that can last a lifetime. However, if you'd prefer something more personal and less polished then hand engraving could be more suitable.
Traditional hand embossing and painting creates a unique feature that ensures no two plaques will ever be the same. While time consuming and slightly more expensive, the finished product will have a character which cannot be gained with mass production techniques. Another way to create a quirky looking memorial is to have the metal shaped. If taking this approach choose shapes that are relevant to the deceased; ballerina shoes for a dancer for example.
Placing a Small Memorial Plaque
The practicality of small memorial plaques means that they can be placed anywhere. Consider attaching a small plaque on an urn or create a trophy commemorating one of the deceased's achievements. You could even place a small memorial plaque on a larger memorial, such as a bench or gravestone. Doing so will help you save money on inscription costs.
Small memorial plaques are without a doubt the most versatile. Unlike larger items they can be removed and placed elsewhere should the original fixture become damaged. In addition cleaning is simpler, which will make the material less susceptible to corrosive elements.
Don't shun a small plaque just because it isn't bold and eye catching. Size doesn't matter providing the memorial is dignified and represents the deceased in a respectable manner.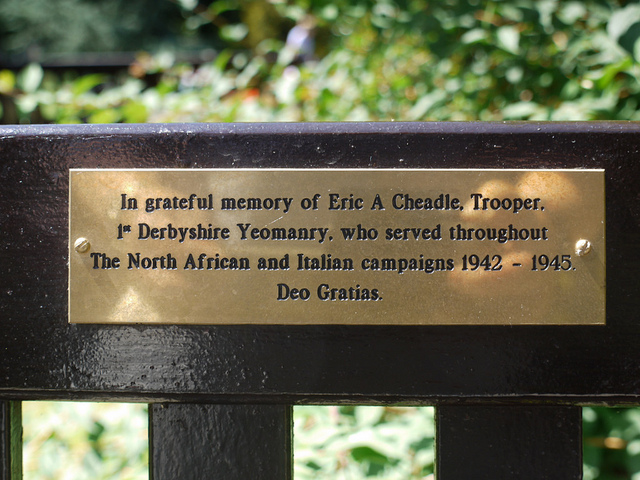 Image Credit:Flickr
Image Caption: Sometimes a small memorial plaque is simply perfect.