Memorial plaques give you the chance to pay tribute to lost friends and loved ones. While a photo engraving of the deceased can compliment the epitaph, it's a costly investment. This guide will help you decide whether or not a photo engraving is right for your memorial.
Types of Memorial Photo Plaques
There are essentially two paths that you can take when designing your memorial plaque. You can choose something pre-made or you can commission a stone mason or engraver to create something more ornate and original. As engraving technology has advanced the demand to create more original memorials has increased.
There are an abundance of engraving techniques, each with their own distinct character. Such techniques include hand engraving, laser engraving and hand stamping. Hand stamping and engraving costs more than laser engraving and provides a unique individualistic finish. On the other hand, laser engraving can produce images which have a lifelike quality.
Engraving Techniques
Hand stamping is when small stamps are hammered onto sheet metal to produce a very clean embossed finish. Hand engraving is slightly more time consuming, and thus, more expensive than other techniques. The primary benefit of hand engraving is that the stone mason or engraver can engrave anything you choose, whereas mass produced laser engravers will typically only give you a limited set of options.
Laser engraved photo memorials can be bought online very cheaply. Most websites allow you to upload an image, choose the dimensions and receive the product in the post. Despite the limited set of options, this is the most cost effective method and results in an image which is an exact copy of what you uploaded. Most people opt for an outline image because full colour images can fade over time.
Using Wood and Metal
Images can be burned into wood to create black markings of varying shades. While this can look very nice the wood will require treatment and waterproofing to ensure it's protected from the elements. Some people decide to combine a metal plaque with a wood backing for added protection. In these circumstances if the wood rots the plaque can be easily removed and placed onto new backing. To protect the wood you should treat it regularly with varnish it to keep it moist. If you let it dry out the wood will crack and the memorial will fall apart.
Metal engraving is slightly more limited in terms of colouring, with the exception of aluminium which can produce photo-like finishes. Embossed and engraved metal plaques will last a lifetime and can be easily cleaned; however, they do still require polishing. Ceramic photo plaques are an excellent alternative if metal and wood doesn't quite cut it. While they may not have the longest lifespan, they can provide a much higher quality image.
Photo plaques and image inscriptions can be very pricey; however, they can really enhance the visual properties of a memorial and make it look more personalized.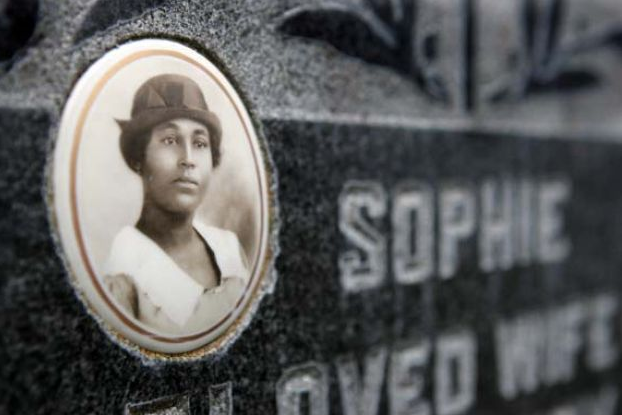 Image Credit: SF Gate
Image Caption: Ceramic photos are often embedded onto memorial plaques and gravestones.