Memorial plaques are a touching tribute to the deceased. They are widely used to commemorate those fallen in war, listed buildings, and the birthplaces of national treasures. English Heritage – a UK based trust which looks after grade listed estates – often commemorate buildings with blue plaques if they are deemed culturally significant. Many local authorities use a similar scheme to remember people or places who have impacted the community.
Choosing the right metal can be tricky and there's a lot more to consider than the price and lifespan. If you make the wrong decision it could be very costly. This guide has been written to help you decide what material will be the most suitable for your needs.
Bronze, Brass and Aluminium
Metal plaques are extremely versatile. Brass, bronze, and aluminium can be used for both outdoor and indoor memorials due to their weather resistance. However, some metals, such as steel, can corrode and will require regular maintenance to prevent or slow down the process.
The most common design is the rectangular brass or bronze plaque. Not only do they look smart, but they're cheap to produce and largely non-corrosive. Metal plaques can often be found on gravestones, walls and trees as they are easy to clean and can be replaced if they get damaged.
Bronze – an alloy of copper and tin – is often mistaken for brass but is a lot harder wearing when exposed to the elements. Because it's unsusceptible to water damage it's often used on outdoor memorials. Although bronze requires little maintenance it does change colour over time due to oxidation; however, this change does give the surface an aged look that can compliment the design and character. To prevent the oxidation process, some companies will create an alloy similar to bronze, but introduce other metals to make their plaques more resistant. In addition they may treat the alloy with a polyurethane coating to further aid protection; however, this coating usually has to be reapplied on an annual basis.
Aluminium is hard-wearing, light, and extremely malleable. It is also heavily corrosion resistant and does not rust; therefore, it requires very little maintenance. Aluminium plaques come in a wide range of colours which makes it suitable for both indoor and outdoor memorials. In addition, it's one of the cheapest metals on the market.
Choosing a Suitable Memorial Plaque
The ideal plaque material depends on: your personal taste, the location of the memorial, and the general aesthetic of the area. Some materials, such as brass, require more maintenance and, therefore, are less suited for areas that are exposed to weathering. Aluminium is certainly the most modern and versatile metals, but it won't provide the vintage colour and character that you would get from bronze.
When choosing the material, check out the surroundings and try to find a design that fits in with other memorials. If you'd prefer to use another metal for maintenance reasons, consider purchasing a treated alloy to ensure it doesn't look out of place.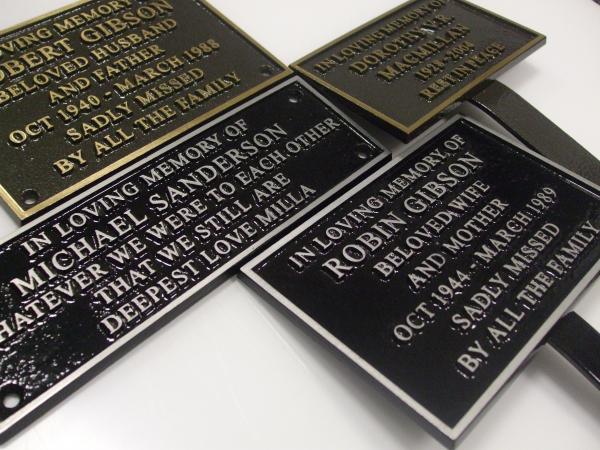 Image Credit:Garden Labelling
Image Caption: Bronze and aluminium memorial plaques.