Bench memorial plaques allow you to publically eulogize the deceased. Choosing a suitable design, however, isn't easy as they not only come in a variety of different shapes, sizes, and materials, but must represent the interests of your local community. This guide provides information on the most common council-informed rules and regulations regarding memorial plaque installation.
Memorial plaques for benches can be made of any hard-wearing and weather resistant material. Most people opt for something simple, such as a small rectangular plaque made from brass with an engraving of the deceased's name. These can easily be fixed to wooden, metal, plastic and stone benches.
Plastic, Stone and Wood Benches
Wooden benches are the most common. However, over time they can rot, become susceptible to wood worm and discolour. Regular maintenance and an annual application of varnish can extend their lifespan.
In recent years plastic benches have significantly increased in popularity. Made from recycled plastic bags and milk cartons, they are extremely hard wearing, weather proof, and the most environmentally friendly solution. Plastic can be moulded in to any shape and coloured accordingly, making it highly versatile. In addition, unlike other materials plastic benches can be cleaned with household detergents and painted, which makes them easier to maintain.
Stone benches are more expensive; however, they're definitely the most durable. While gradual erosion can be a problem, it is unlikely to affect the bench during a lifetime. Stone benches are usually permanent features in country estates, church yards, and memorial parks. If placed in a traditional setting grey granite is the most common choice due to the aesthetic value and cheap maintenance costs. A small brass plaque can be screwed to stone or an epitaph can be engraved directly onto the bench.
Rules and Regulations
Churches are very accepting when it comes to memorial benches as long as the design fits in with the aesthetic of the church yard. Most parishes will approve memorial bench installation, but may have restrictions on the location. In addition, they will almost certainly withhold the right to remove the bench in the future if they see fit.
In the event of a cremation the cost of bench memorials can usually be recovered from the deceased's estate before the funds are transferred to the next of kin. However, when there's a burial the funds may only cover the cost of a gravestone. If in doubt contact your funeral director or the deceased's funeral insurance provider to find out whether or not the costs can be recovered.
If you would like to install a memorial bench you'll need to contact your local council or parish. Local authorities often reject personal memorials outside of memorial gardens unless the deceased was held in high regard by the local community. Despite this, some councils are more relaxed if the memorial is understated – such as a bench with a small plaque – and the costs are covered privately. You can find Information regarding local by-laws and memorials on all council and parish websites.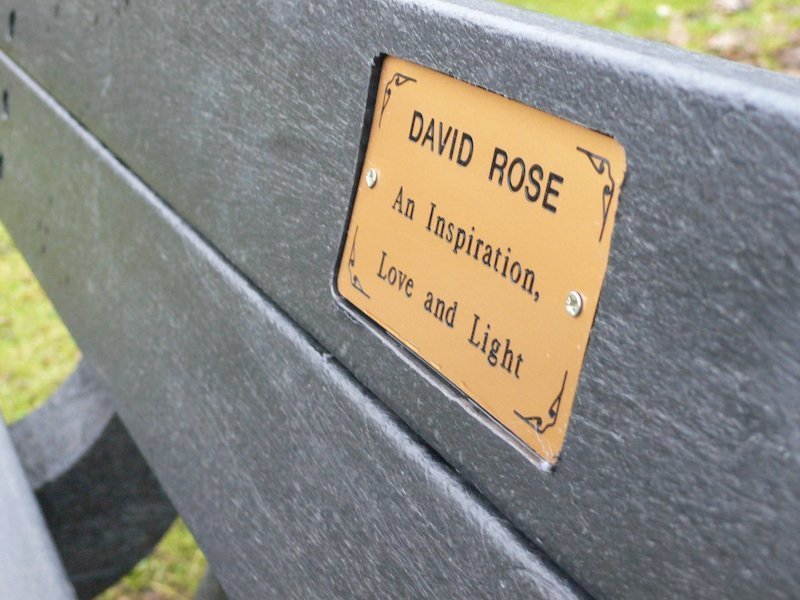 Image Credit:Kedal
Image Caption: A wooden bench memorial with a brass plaque.